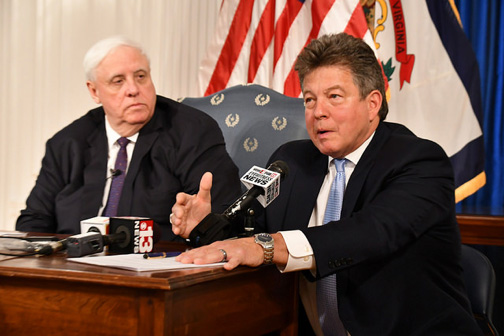 CHARLESTON, W.Va. – The West Virginia Coal Association had the opportunity to join Gov. Jim Justice in publicly thanking President Donald Trump for taking historic action to protect the American coal industry.
During a press conference June 7 at the West Virginia State Capitol, Justice and WVCA Senior Vice President Chris Hamilton explained to news media the importance of Trump's June 1 directive to U.S. Energy Secretary Rick Perry.
Taking inspiration from the Justice's energy plan and the governor's public commitment to rebuilding West Virginia's coal industry, Trump ordered Secretary Perry on June 1 to take immediate steps to protect the viability of American coal-fired and nuclear-fired power plants. Hamilton said the Trump-Justice plan calls for federal incentives to prevent the closure of additional plants. Any additional closures would weaken the nation's electrical grid even further and risk continued reliable delivery of electric power to American homes and businesses.
"There was not a higher priority to me when I first took office then to make sure all our miners continue to work and be able to provide for their families," Justice said. "I can attest to their personal hardship as they try to make ends meet which has been all for not. Our country needs secured shipments of West Virginia steam coal for national defense and for energy independence."
Hamilton said he has been in the coal business for 40 years, and never before has he seen an American president take such historic action to secure the nation's energy future. He thanked Justice for his leadership in giving the president a solid roadmap to follow for domestic energy policy.
"We are so delighted that President Trump has embraced the governor's plan and has taken bold steps to move it forward," Hamilton said. "West Virginia steam coal makes up over 50 percent of our state's output and is used in 55 coal plants in 16 states.
"And let's remember that we this is about West Virginia families, West Virginia miners, tens of thousands that wake up every single morning and go to bed every single night wondering if they are going to have a job the next day," he continued, citing the previous administration's anti-coal policies as the basis for the industry's struggles. "We have seen 600 coal-fired power plant closures in this country, 18 in West Virginia … and each one is associated with millions and billions in economic activity and jobs and power. The president's actions hopefully will stop any additional closures and allow the Trump-Justice energy plan to protect our industry and preserve America's energy security."